Jamie Sadlowski's rapid rise to the top echelon of power golf has been nothing short of spectacular. The Canadian phenom, a former junior hockey player from St.Paul, Alberta, made an immediate impact on the sport of long drive.
The 28-year-old Professional is known for his incredibly athletic swing and the outrageous ball speed he creates at impact. In fact, Sadlowski became an internet sensation last year when he put a hole through the Golf Channel simulator while making an appearance on one of their shows. The next time he returned to offer some tips he repeated the feat by putting it through a reinforced simulator with a 7 iron.
Twice a junior world long drive champion, Sadlowski subsequently stepped up on the big stage at the World Long Drive Championship and won back-to-back titles in 2008 and 2009. He has 9 consecutive television finals and has never finished worse than 5th in the world since he started competing.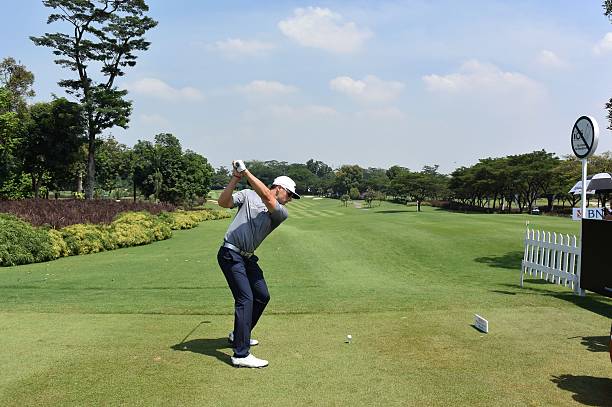 After performing more than 600 exhibitions/shows around the world, Jamie is starting a new chapter in his career. Beginning this Fall, Jamie will retire from long drive competitions and shows and play full time around the world as a professional golfer. Jamie's quest will begin with the Web.com Tour Qualifying tournament. Jamie has tested his skill on the course sparingly over the past five years but having made three out of four cuts on the web.com tour and capturing medalist honors in the US Open qualifying has shown he has the skill to compete with some of the games best players.
Sadlowski will split time between his home in St. Paul Alberta, Canada and Scottsdale, AZ where he is a member at Whisper Rock Golf Club.
Social and newspapers talk about jamie sadlowski:
https://en.wikipedia.org/wiki/Jamie_Sadlowski
https://www.mlive.com/sports/kalamazoo/2012/10/long-drive_competitor_richland.html
https://montrealgazette.com/sports/fore-long-hitter-drives-ball-straight-through-golf-simulator-screen
http://blog.livedoor.jp/fairwaygolf_usa/archives/2010-02.html
https://www.wikidata.org/wiki/Q6147419
https://twitter.com/jamiesadlowski
https://www.youtube.com/user/jamiesadlowski44
https://www.pgatour.com/players/player.35475.jamie-sadlowski.html
Former long-driver Jamie Sadlowski modifies his gear to chase Tour card
https://www.golfdigest.com/story/former-long-drive-champ-jamie-sadlowski-makes-pga-tour-debut-this-week
https://www.golfchannel.com/media/remax-world-long-drive-champion-jamie-sadlowski
https://www.pgatour.com/korn-ferry-tour/tour-insider/2018/10/16/jamie-sadlowski-first-stage-q-school-co-medalist-world-long-drive-champion.html
https://www.pinterest.com/pin/173740498098136242/
https://www.theguardian.com/sport/video/2012/nov/20/jamie-sadlowski-powers-through-swing-simulator-video
http://www.koreatimes.co.kr/www/sports/2019/04/159_146943.html
https://www.insidehook.com/article/sports/jamie-sadlowski-445-yard-drive-golfer
https://www.thesun.co.uk/sport/1197211/this-is-jamie-sadlowski-the-real-life-happy-gilmore-whos-smashing-driver-miles-past-other-pros/
https://www.dailytelegraph.com.au/sport/golf/monster-hitter-jamie-sadlowski-has-the-drive-to-make-a-name-for-himself-on-pga-tour/news-story/e2e996ebd3bb1635ec4607dc7ad951cd
Jamie Sadlowski discusses his new Cleveland driver, WITB (2018 PGA Show Demo Day)
Professional Management