Are you looking for the perfect pair of golf shoes to take with you when walking on and off the course? It's a common dilemma, after all; most people either want something comfortable but won't provide enough traction to keep them firmly planted during tee shots, or they find something that works on the links but are uncomfortable. Fortunately, there is now a wide variety of shoes available that combine both comfort and ultimate performance. In this blog post, we'll be taking a look at some of the best golf shoes for walking currently on the market for those who prefer to hit their drives while strolling along in style. Whether it's waterproofing features or up-to-date styling, these fantastic picks will have your feet ready to attack any course without fear. So let's get started.
What are golf shoes?
Golf shoes are purpose-built footwear designed to enhance comfort, support, and stability during a round of golf. They come in two primary styles: spiked (metal or plastic) and spikeless. Spiked shoes provide increased traction on the course but require more maintenance, while spikeless options are lightweight and comfortable for long walks without sacrificing performance.
Benefits of walking while golfing with the right golf shoes
Walking on the course is a great way to stay active and enjoy the scenery, but it can be difficult if you don't have the right footwear. Not only can improper shoes increase your chances of slipping and falling, but they could also lead to blisters or sore feet. Wearing proper golf shoes will provide you with stability and support while walking—allowing you to concentrate on your golf swing and play better.
Additionally, walking in golf shoes can help minimize fatigue. Most modern golf shoes are designed for comfort and support with features like padded collars, breathable mesh panels, and cushioned midsoles. These features help keep your feet comfortable no matter how long the course is or how fast you're walking.
Factors to consider while choosing golf shoes for walking
When selecting the best golf shoes for walking, comfort is key. Look for a pair that provides plenty of cushioning and support while still being lightweight enough to walk with ease. Once you've found a pair that fits well, consider any additional features that may improve your experience on the course.
Waterproofing is an important factor to consider if you're playing in wet or overly-saturated conditions. Additionally, up-to-date styling will ensure that your shoes look good no matter the occasion.
How much does it cost for a good walking golf shoe?
The cost of golf shoes for walking can vary widely depending on the style and features you're looking for. Generally speaking, quality options start around $100 and can go up to several hundred dollars depending on your needs. Many online retailers also offer discounts and sales which can help make your purchase more affordable.
Best golf shoes for walking
For those who prefer to walk the course, there are plenty of options. Here's a look at some of the best golf shoes for walking currently available on the market:
Adidas Tour360 Knit Boost
These lightweight and flexible shoes feature full-length Boost cushioning and are designed with a Primeknit upper that adapts to the shape of your foot for maximum comfort. Additionally, they feature a 11-cleat sole for enhanced traction and stability on any terrain.
FootJoy HyperFlex II
Featuring an ultra-lightweight construction and FlexGrid technology in the midsole, these shoes provide excellent cushioning and support without sacrificing performance. The low-profile design ensures that your feet remain stable while walking and swinging the club.
Puma Ignite PWRSPORT
These shoes feature a lightweight upper design and TPU cage for enhanced stability on the course. Additionally, they are outfitted with SmartQuill traction technology for superior grip on all surfaces—making them one of the best golf shoes for walking on wet terrain.
Ecco Cage Pro Boa
These shoes feature a BOA closure system for easy on-and-off and an improved fit. Additionally, the lightweight construction is designed to provide comfort and support throughout your round. The ECCO SPYDR-GRIP outsole provides superior traction no matter the terrain.
Nike Air Zoom Infinity Tour
These shoes feature a soft, lightweight upper construction and Nike React cushioning for superior comfort. Additionally, they are designed with an innovative traction that provides superior grip on any terrain—making them perfect for walking the course in style.
New Balance Minimus SL-2
FantomFit technology ensures that these shoes provide superior support and cushioning without sacrificing performance. The waterproof upper is designed to keep your feet dry even in the wettest conditions, while the non-marking outsole provides excellent grip on all surfaces.
ECCO Biom Hybrid 3 GTX
These shoes feature GORE-TEX waterproof construction and an innovative ECCO Comfort Fibre System that ensures superior cushioning and breathability. Additionally, the low-profile design provides excellent stability on the course—making them ideal for those who prefer to walk with their clubs.
Skechers GO GOLF Elite V.3
These shoes feature Skechers' H2GO Shield waterproof protection and are designed with a low-profile sole that provides excellent stability and support on any terrain. Additionally, the Resamax cushioning in the midsole ensures superior comfort and energy return throughout your round.
Adidas Crossknit Boost 2.0 Spikeless
These shoes feature full-length BOOST cushioning for superior comfort and an ultra-lightweight construction for easy walking. Additionally, they are designed with a spikeless outsole that provides excellent grip on all types of terrain—making them the perfect choice for those who prefer to walk while golfing.
Puma Ignite NXT Solelace
These shoes feature Puma's signature Ignite foam cushioning and an innovative PWRFRAME upper construction that helps provide superior stability on the course. Additionally, they are designed with a low-profile sole that provides excellent traction on all surfaces—making them perfect for walking your way through any round of golf.
Where to buy golf shoes for walking?
Golf shoes for walking can be purchased from most golf retailers, as well as online stores like Amazon. Additionally, many pro shops and golf courses also carry a variety of brands and styles—allowing you to try on the shoes before purchasing them. Many brick-and-mortar stores offer discounts on top brands—so don't forget to check out your local pro-shop for the best deals.
How to measure golf shoes for walking for fit?
When measuring golf shoes for walking, it's important to measure both feet and use the larger of the two measurements. Additionally, take into account any socks you plan on wearing with your shoes as this can affect the fit. It's also a good idea to try on several pairs before making a purchase to ensure that they provide enough grip, cushioning, and support.
The best way to ensure a proper fit is to try on the shoes while wearing your golf attire and walking around a bit in the store. This will give you an idea of how they feel when you're actually playing. It's also important to check for any excess material or tightness that could cause discomfort during play.
How to use golf shoes for walking safely?
When using golf shoes for walking, it's important to take safety precautions. Always check your course before starting out and avoid playing on wet or slippery surfaces. Additionally, wear the appropriate clothing when playing to ensure that you're properly protected from the elements.
In addition to this, it's also important to choose a pair of shoes that provide ample traction. The grip on your shoes should be sufficient to prevent slipping or sliding while playing. Taking these steps can help ensure that you remain safe and comfortable when walking the course in your golf shoes.
Read more: best golf courses myrtle beach
Tips to maintain your golf shoes for walking
To keep your golf shoes for walking in good condition, it's important to clean them after each use. This will help remove any dirt or sand that could accumulate on the sole and cause wear and tear over time. Additionally, it's a good idea to store your shoes in a dry place away from direct sunlight as this can cause fading and wear to the upper material.
Finally, it's important to replace your shoes once they start to wear down or when you feel like your support is not as good as before. This will help ensure that you remain comfortable and safe while walking the course in style. By following these simple steps, you can keep your golf shoes for walking in top condition for many seasons to come.
Conclusion: Best golf shoes for walking
Golf shoes for walking are a great way to stay comfortable and provide you with the grip you need to walk your way around the course. With so many options available on the market, it's important to choose wisely and find a pair that fits your needs. By taking into consideration features such as waterproof construction, superior cushioning, lightweight construction, and traction, you can ensure that your feet will remain comfortable and supported while walking the course in style. Additionally, taking good care of your shoes with proper cleaning and storage will help them last for many rounds to come.
FAQs Golf shoes
Are golf shoes good for walking?
Discover the versatility of golf shoes. Designed for the greens, they make excellent walking companions too. Experience comfort and style with modern golf shoes like the Adidas Boa and Ecco Biom hybrids. These innovative shoes boast spikeless rubber soles, ensuring a pleasant stroll on your beloved golf course. Remember, not all golf shoes are created equal. Choose wisely for the ultimate performance.
Are spikeless golf shoes better for walking?
Discover the ultimate comfort and versatility with spikeless golf shoes. Designed for both on-course and off-course use, these lightweight shoes offer a more comfortable and enjoyable walking experience. Say goodbye to sharp spikes and hello to a shoe that prioritizes both style and functionality.
Can I wear golf shoes as normal shoes?
Spiked golf shoes can be transformed into stylish and versatile footwear suitable for everyday use by opting for spikeless pairs. These trainer-like shoes, manufactured by renowned sports brands like Nike, adidas, and Puma, can be worn on any surface, including concrete. However, it is not recommended to use spiked shoes for casual, everyday wear.
Is it OK to walk on concrete with golf shoes?
Wearing spikeless golf shoes on concrete is possible, but they are not as durable as they are specifically designed for turf use. On the other hand, spiked golf shoes are not suitable for walking on a hard surface as they will not provide comfort and their spikes will deteriorate quickly. It is advisable to reserve spiked shoes for your upcoming golf match.
What are proper golf shoes?
Discover the essential features of high-performance golf shoes that go far beyond aesthetics. These footwear gems boast molded spikes or cleats, arch stabilizers, ample hidden padding, and lightweight, breathable material. Elevate your comfort and enhance your traction on the course with these must-have components.
Do you wear golf shoes with socks?
Optimal footwear choices for the golf course depend on the weather. While short ankle socks are suitable for most conditions, in extremely hot weather, 'golf sandals' without socks can be a viable option. These sandals offer enough traction while providing ample ventilation for your feet.
Can you walk in Jordan 1 golf shoes?
The spikeless design of Jordan 1 golf shoes allows for casual wear, giving you versatility both on and off the course. However, it's important to avoid wearing the spiked Jordan golf shoes when not playing golf to prevent damage to the spikes and potential slipping hazards.
Should golf shoes be waterproof?
Protect your feet from blisters and discomfort with waterproof golf shoes. Whether you're playing in the early morning or in any weather condition, these shoes are essential for golfers. Don't sacrifice comfort on the course – invest in waterproof golf shoes now.
How many pairs of golf shoes do I need?
Having both spiked and spikeless golf shoes in your wardrobe is highly recommended. By having two pairs, you can take advantage of the benefits of each shoe depending on the conditions.
Should golf shoes fit tight or loose?
Ensure that your shoe fits comfortably around the widest part of your foot. Ill-fitting shoes can lead to foot sliding during your golf swing. Strive for a snug fit that maintains stability, as this is crucial for optimal golf performance.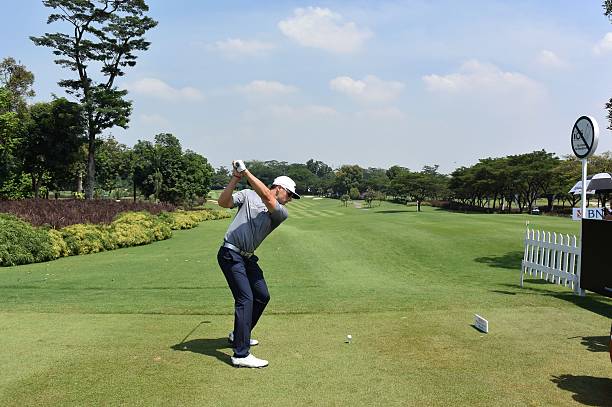 Jamie Sadlowski is one of the most remarkable golfers in the world. He's a two-time World Long Drive Champion, and he's currently ranked 4th in the world. His story is one of perseverance, hard work, and passion for the game. Let's take a closer look at this inspiring athlete.
The Early Years
Jamie Sadlowski was born in St. Paul, Alberta, Canada. He started playing golf at a young age and quickly developed an affinity for the sport. As he grew older, his passion for golf only deepened and he eventually decided to pursue it as a career. After graduating from high school in 2006, Jamie enrolled at the University of Nebraska-Lincoln where he studied business and played collegiate golf for three years. In 2009, he decided to leave college early to pursue his dream of becoming a professional golfer .