Are you thinking of getting into the exciting world of golf carts? Whether you're a rookie driver or have been riding around in your very own golf cart for years, starting up a golf cart can be an intimidating process. Luckily, with this guide, you'll feel confident and ready to get on the green. We'll cover some essential safety tips, how to maintain and store your golf cart, what gear and accessories are available to enhance your experience on the course–all while providing helpful information that will make sure your vehicle remains reliable and safe. So strap in and let's get started – here's what you need to know about how to start a golf cart.
What are golf carts?
Golf carts are small, motorized vehicles driven around golf courses help players get from one hole to the next. They're typically powered by either an electric motor or a gas engine and can seat up to four people. Often used on private courses, they're also popular in parks and neighborhoods.
Different types of golf carts
There are two main types of golf carts: electric and gasoline. Electric cars are powered by rechargeable batteries, while gas-powered carts use gasoline or other combustible fuel sources. Both types of vehicles have their own advantages and disadvantages–so it's important to research each type before making a purchase decision.
How to choose the right golf cart?
When it comes to choosing a golf cart, there are several factors that should be taken into account. The size and type of vehicle you need depends on your height, weight, age, and physical capabilities–as well as how often you plan to use it. Consider how much storage space is available for gear or groceries; if you'll be driving in wet conditions; and if you'll need a car that can handle steep hills.
Benefit of knowing how to start a golf cart
Once you've determined what kind of golf cart is right for you, it's time to learn how to start it up. Knowing how to properly operate your vehicle is crucial for safety and comfort–and will save you a lot of time and energy on the course.
It's also important that you understand basic maintenance tasks such as changing the oil, checking the brakes and other parts of your golf cart regularly. Knowing how to start a golf cart will give you added peace of mind while out on the green.
How to start a golf cart?
Starting a golf cart is easy, no matter what type you're driving. This section provides a step-by-step guide to the process, so you can get on the green in no time.
Step 1: Accessorize your golf cart
Before starting your golf cart, it's important to make sure you have all the necessary accessories. This includes things like golf bags, scorecards, umbrellas an extra set of keys, and more. Make sure to have these items on hand before you start your vehicle.
Step 2: Check the fluids
It's important to make sure your golf cart has all the necessary fluids before starting it. This includes checking the gas tank, battery levels, engine oil, coolant level, and brake fluid. All of these should be at the correct levels before starting your vehicle.
Step 3: Prepare to start
Once you've checked all your fluids and prepared your accessories, it's time to get ready for the ride. Make sure everyone in your cart is safely seated and buckled, wearing their seatbelts at all times. Once you're comfortable, it's time to start your golf cart.
Step 4: Start the engine
For electric cars, make sure the key is turned into the "on" position and press down on the accelerator pedal. For gas-powered carts, turn the ignition switch and push down on the accelerator pedal until the engine starts. If you're having trouble starting your cart, make sure to consult with a professional before continuing.
How to start a golf cart after winter?
If you've stored your golf cart away for the winter, it's important to take a few extra steps before getting back on the green. Make sure to check all of your fluids and recharge the batteries if necessary. Clean any debris that has built up over time and inspect the tires for any signs of wear or damage. After these tasks have been completed, it's time to start your golf cart and enjoy the ride.
How to start a golf cart without a key?
If you find yourself in the unfortunate situation of not having a key to start your golf cart, don't worry. There are several alternative methods for starting your vehicle without a key. For electric carts, you can use a paper clip or other small tool to bridge the connection between the two terminals on the battery.
For gas-powered carts, you can use a screwdriver to manually turn the ignition switch on and off. Before attempting either of these methods, be sure to consult with a professional to make sure your cart is in good working order.
How to start a golf cart with a screwdriver?
If you're using a gas-powered cart, then starting it with a screwdriver is relatively simple. All you have to do is insert the flat end of the screwdriver into the ignition switch and turn it clockwise until the engine starts. Before attempting this method, make sure that all your fluids are at their correct levels and that there aren't any signs of damage to the ignition switch.
How long does it take to get used to using a golf cart?
Getting used to riding in a golf cart is an individual process, and it typically takes some time to become comfortable with the nuances of driving one. However, once you get the hang of it, you'll be able to enjoy your rides around the course much more.
It's important to practice safety while maneuvering your golf cart and always keep an eye out for other golfers and pedestrians. With some practice, you'll be able to drive your golf cart like a pro in no time.
Common mistake when starting a golf cart and how to avoid them
One of the most common mistakes people make when starting their golf cart is not properly checking the fluids. This can cause serious damage to your vehicle if left unchecked, so be sure to check all of your fluids before attempting to start your cart.
Additionally, it's important to remember that electric and gas-powered carts have different ways of being started. Be sure to read the manual for your specific cart before attempting to start it, as this will help you avoid making any costly mistakes.
Safety measures when driving a golf cart
It's important to remember that golf carts are not cars, and they need to be operated with caution. Be sure to keep your speed in check, as speeding can cause you to lose control of your vehicle. Additionally, always drive on the right side of the road and avoid making sharp turns or abrupt stops.
Finally, make sure all of your passengers are safely seated and buckled at all times. By following these simple safety measures, you can ensure the safety of everyone on board.
How to maintain your golf cart?
Keeping your golf cart in good condition is essential for ensuring safe and reliable performance. Regular maintenance includes checking tire pressure, topping up fluids such as oil or coolant, cleaning and lubricating parts, and replacing worn-out components.
Additionally, it's important to store your golf cart properly. This means keeping it in a dry, cool place away from any direct sunlight or extreme temperatures. Make sure the battery is disconnected when not in use and that any necessary covers are placed on the vehicle to protect against dust, dirt, and debris.
Conclusion: How to start a golf cart
Golf carts are a great way to get around the course quickly and comfortably. Getting started is easy, but it's important to remember that safety should always be your top priority. Make sure you have all the necessary accessories, check the fluids, and prepare to start before getting on the green. And don't forget to give your golf cart some TLC with regular maintenance and proper storage. With these tips in mind, you're well on your way to becoming an expert at starting a golf cart.
FAQs Golf cart
How do you turn on an EZ Go golf cart?
Start an E-Z-GO vehicle safely by following these steps: turn the key to the "on" position, choose either "forward" or "reverse", release the parking brake, and gently press the accelerator pedal.
Why is my golf cart clicking but not starting?
Experience solenoid failure if your golf cart doesn't start when you turn the key. Typically, a functioning solenoid should make a small clicking sound during ignition, but when it's failing, it may not make any noise at all.
Why will my golf cart charger not start?
To ensure optimal electrical flow, inspect each battery terminal for corrosion. Any buildup can hinder the flow of electricity and potentially lead to issues. If you plug in your charger and experience no activity, it is likely due to a problem with either your batteries or connections.
How long do golf cart batteries last?
Lead-acid golf cart batteries typically have a lifespan of approximately two to five years when used regularly. On the other hand, lithium-ion golf cart batteries, if properly maintained, can last an impressive ten to 20 years.
To reset the device, simply locate the small reset button (usually red) near the main battery supply. Press the reset button, then replace the motor cover. Afterwards, recharge your cart and attempt to power it on again.
How do I know if my golf cart is charging?
Easily monitor the charging status of your golf cart battery by observing the blinking LED lights on the charger. These LED lights accurately display the various charging levels of your battery.
Is it bad to leave a golf cart plugged in?
Yes, leaving your golf cart plugged in after its battery has been fully charged can lead to battery damage. To avoid damaging your battery, simply unplug the charger when you're done and store the device properly.
How do golf cart starters work?
Different car models come with turn key ignition options. The starters used in these models differ based on the brand and mounting methods used. When the key is turned, it allows electricity to flow to the pedal. The Pascal, when pressed, completes the circuit using a microswitch. This microswitch can be found either under the floor or inside the solenoid housing protective cover, depending on the specific model.
Is it safe to drive a golf cart in the rain?
Yes, it is safe to drive a golf cart in the rain. However, golf carts are able to withstand short-lived heavy rain or moderate rainy conditions without sustaining any damage. This is thanks to their built-in roof and windshield, which offer protection against water damage. However, it is important to ensure that the golf cart batteries remain dry.
Can you overcharge a golf cart battery?
Avoid damaging your golf cart batteries by overcharging them. Opt for an automatic charger that shuts off when the battery is fully charged. However, be cautious of older models that may lack this crucial feature. If you have no choice but to use a manual charger, remember to manually turn it off.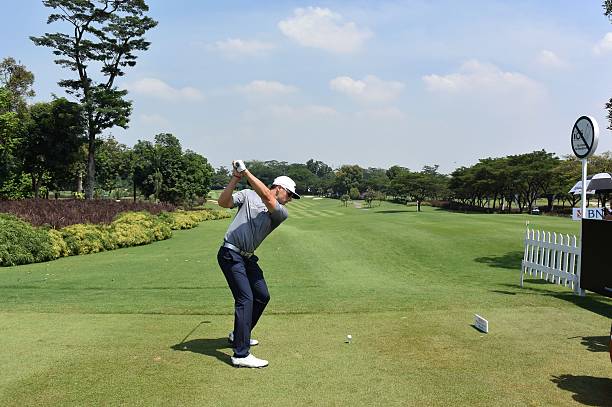 Jamie Sadlowski is one of the most remarkable golfers in the world. He's a two-time World Long Drive Champion, and he's currently ranked 4th in the world. His story is one of perseverance, hard work, and passion for the game. Let's take a closer look at this inspiring athlete.
The Early Years
Jamie Sadlowski was born in St. Paul, Alberta, Canada. He started playing golf at a young age and quickly developed an affinity for the sport. As he grew older, his passion for golf only deepened and he eventually decided to pursue it as a career. After graduating from high school in 2006, Jamie enrolled at the University of Nebraska-Lincoln where he studied business and played collegiate golf for three years. In 2009, he decided to leave college early to pursue his dream of becoming a professional golfer .