Are you a budding golfer looking to up your game? Finding the right equipment can often be daunting and overwhelming, particularly when it comes to deciding which clubs to use. Knowing how each club adds something different to your skill set can make an immense difference in improving your golf technique and eventually getting that elusive hole-in-one. Regardless of whether you're an amateur or experienced player, this blog post is designed to provide insight into what clubs to use in golf. From drivers through putters, we guide you through everything from understanding basic specifications like loft angles, shaft lengths and head design so you can make sure every swing counts.
What are golf clubs?
Golf clubs, as the name suggests, are tools used for playing golf. They come in different sizes and shapes, but all of them have a similar purpose – to hit a golf ball. The type of club you use will determine how far your ball goes and how accurate your shot is.
Different clubs can also help you tackle different obstacles on the course such as water hazards and bunkers. So, understanding the different kinds of clubs and their uses can be a great advantage to becoming a better golfer.
Why is it important to know what clubs to use in golf?
Knowing what clubs to use in golf particular shot can make all the difference between success and failure on the course. Different clubs have different loft angles, shaft lengths and head designs, so understanding how each of these affects your shot can help you make a more informed decision about which club to choose.
Additionally, having an understanding of the different clubs available can help you become more familiar with their purpose and, ultimately, develop better skills as a golfer.
What clubs to use in golf?
What clubs to use in golf? Golfers typically carry at least 14 clubs in their bag and can use up to a maximum of 14 during each round. The rules allow you to switch between different club types during the course of the game, depending on what challenges you are faced with. The most commonly used clubs in golf include:
Drivers
Drivers are probably the most well-known golf club and they're used for hitting off the tee box when playing a round of golf. They typically have longer shafts, bigger heads and lower loft angles than other clubs, making them ideal for hitting long distances.
Woods
Woods are similar to drivers but they're more specialized and designed specifically for difficult shots from the fairway. They have larger heads, longer shafts and a slightly higher loft angle than drivers, allowing players to lift the ball easier when hitting off tight lies.
Hybrids
Hybrids are designed for a mixture of both long and short shots, combining the benefits of fairway woods and irons into one club. They have shorter shafts than woods, but larger heads than irons, making them more suitable for hitting off tight lies.
Irons
Irons are much more specialized than the clubs mentioned above and are commonly used to hit shots from the fairway and into the green. They have shorter shafts, smaller heads and higher loft angles, making them suitable for precise shots with greater accuracy.
Wedges
Wedges are similar to irons but they have even higher loft angles which makes them ideal for hitting short distance shots with greater accuracy. They're often used to hit out of bunkers, rough spots and tight lies on the course, as well as for chipping onto the green.
Putters
Putters are the most specialized club in golf and they're designed specifically for putting on the green. Putters have shorter shafts, a larger head and very low loft angles which makes them ideal for getting the ball into the hole.
Chipper
The Chipper is a unique club that blends the advantages of both an iron and a putter. It's designed to generate low-velocity, high-accuracy shots which makes it ideal for hitting from short distances around the green.
What golf club should i use for each distance?
The distance of your shot will determine which club you should use. Generally, the longest clubs in your bag are drivers and woods for hitting off the tee box and from long distances on the fairway respectively. Mid-range clubs such as hybrids and irons can be used to hit from medium distances, while wedges and putters should be used for short shots around the green and into the hole.
The best way to determine which club you should use for each distance is to practice hitting with each of them and get a feel for how far they can hit the ball. Knowing your distances will help you in choosing the right club for every shot.
What golf club should i use in the rough?
When it comes to hitting from the rough, your best bet is often a hybrid or an iron. These clubs are designed with a more shallow head which makes them easier to hit from tight lies. Using a driver in the rough can be difficult as the ball tends to get stuck in the thick grass, making it harder to get a good shot off.
How to choose the right clubs in golf?
Choosing the right clubs for your game can be daunting and overwhelming. It is important to consider factors such as loft angles, shaft lengths and head design when selecting which clubs are best for you. You should also take into account your skill level and playing style.
If you're new to golf, it is recommended that you start with a basic set of irons and add more specialized clubs as you gain experience. Experienced golfers, on the other hand, have more options when it comes to choosing their clubs.
Ultimately, the best way to determine which ones are most suitable for your game is by consulting with a golf professional or trying out different models at your local driving range.
How to buy golf clubs?
If you've decided which clubs to use in golf, the next step is to find out where and how to buy them. Golf retailers stock a wide range of options from top brands including Callaway, TaylorMade and Titleist.
Alternatively, golfers can also purchase their equipment online with sites such as Amazon or eBay offering a convenient shopping experience. And if you're looking for more cost-effective options, secondhand clubs are a great way to save money.
How much does it cost to buy golf clubs?
The cost of golf clubs can vary significantly depending on the brand, model and features offered. Generally, a basic set of irons for an amateur golfer will range from $100 to $400. For experienced golfers looking for more specialized clubs, prices can range from $500 to upwards of $1000.
Tips for storing and maintaining your golf clubs
Now you've decided which golf clubs to buy, you should also consider how to store and maintain them for a longer life. Here are some tips to keep in mind:
Store your clubs in a dry environment such as a locker room or garage.
Keep your clubs organized by bagging them together and using head covers when you're not playing.
Clean your clubs regularly with a damp cloth to keep them in good condition.
Regularly check the shafts and grips for signs of wear and tear and replace any damaged parts as necessary.
Have a professional inspect and adjust your clubs if you notice any issue with performance or accuracy.
Conclusion: What clubs to use in golf
Choosing the right golf clubs can be a difficult decision, but with the right knowledge and understanding you can find the perfect set for your game. By taking into account factors such as loft angles, shaft lengths and head design, as well as considering your skill level and playing style, you'll be able to select the best clubs for an enjoyable round of golf.
Picked For You: how many batteries in a golf cart
FAQs Clubs in golf
Can you play golf with 3 clubs?
Choose three clubs – a hybrid, a 5-iron, and a 9-iron, for instance – and limit yourself to using only those throughout the entire golf round.
What clubs does Tiger Woods use in golf?
Professional golfer Tiger Woods chooses TaylorMade clubs for his game. His set includes the powerful TaylorMade Stealth Plus driver, the versatile TaylorMade M3 5-wood, the precise TaylorMade M5 3-wood, the reliable TaylorMade P7MB irons, the exceptional TaylorMade MG3 and MG2 TW Grind wedges, and the trusted Scotty Cameron Newport 2 GSS putter.
What clubs does Rory McIlroy use in golf?
Rory McIlroy, a TaylorMade staff golfer, has assembled a remarkable bag of clubs for the year 2023. Among his impressive collection is the exceptional Stealth 2 Plus driver, renowned as one of the top drivers of the year. While McIlroy started his professional career as a Titleist player, he now relies on the remarkable Vokey SM9 and Vokey Wedgeworks wedges to enhance his game.
Is it bad to carry too many clubs in golf?
It is generally not advisable to carry more than 14 clubs with you on the course. While having a variety of different clubs can be beneficial, carrying too many can also lead to confusion and an inability to choose the correct club for certain shots.
Is it better to use longer clubs in golf?
Not necessarily. While a longer club can result in more distance for some, the extra length can also make it harder to control shots.
Can I use a driver in golf club for short shots?
No, drivers are designed to hit the ball further and should only be used when distances of more than 150 yards are required. Clubs such as hybrids, irons, wedges and putters should be used for shorter shots.
Did Tiger use Nike clubs in golf?
Yes. Witness Tiger's mastery with Nike Forged irons and Pro Combo wedges. Marvel as he strategically unleashes the power of a Nike TW One golf ball.
Does Phil Michelson use Callaway golf clubs?
Yes. Phil Mickelson is a long-time endorser of Callaway Golf equipment, and he currently uses Callaway Big Bertha drivers, fairway woods, hybrids, irons and wedges in his bag. He also carries a variety of Odyssey putters.
Does Jordan Spieth use Titleist golf clubs?
Yes. The three-time major champion is currently a staff player for Titleist and uses the company's TS2 driver, 917F fairway woods, 718 irons and Vokey SM7 wedges in his bag. He also carries a Scotty Cameron putter.
Can I use someone else's golf clubs?
Yes, but it is advisable to consult the owner and make sure that the club suits your game. If you are not familiar with a certain club, it is wise to try it out before playing with it in a round of golf.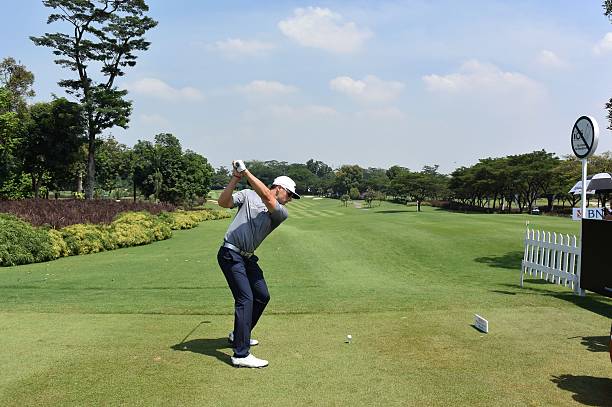 Jamie Sadlowski is one of the most remarkable golfers in the world. He's a two-time World Long Drive Champion, and he's currently ranked 4th in the world. His story is one of perseverance, hard work, and passion for the game. Let's take a closer look at this inspiring athlete.
The Early Years
Jamie Sadlowski was born in St. Paul, Alberta, Canada. He started playing golf at a young age and quickly developed an affinity for the sport. As he grew older, his passion for golf only deepened and he eventually decided to pursue it as a career. After graduating from high school in 2006, Jamie enrolled at the University of Nebraska-Lincoln where he studied business and played collegiate golf for three years. In 2009, he decided to leave college early to pursue his dream of becoming a professional golfer .