Golf is a popular and competitive sport that has been enjoyed by people around the world for centuries. Whether you play casually or take part in tournaments, golf can be an exciting game with lots of rewards. One way to really test your skills as a golfer is to take on one of the major golf tournaments. But what is a major golf tournament? In this blog post, we'll explore the history and importance of these kinds of events, looking at some famous examples along the way. So if you're keen to find out more about what goes into making up a major tournament – then keep reading.
What is a major golf tournament?
What is a major golf tournament? In simple terms, a major golf tournament is a large-scale event that attracts professional golfers from all around the world. These tournaments can be organized by individual countries or international governing bodies and are typically held on prestigious courses where players must adhere to strict rules and regulations.
Major tournaments often offer huge prize money pools as well as global recognition for those who achieve success in the event. In addition, many major tournaments are also televised and broadcasted to a wide audience.
The history of major golf tournaments
The history of major golf tournaments can be traced back to the late 19th century when the first two majors – The Open Championship and US Open – were established. Since then, these events have grown in popularity and stature, attracting some of the most talented players from around the world.
As a result, many other international competitions have been introduced, including The Masters which was first played in 1934 and the PGA Championship which was established in 1916.
How many major golf tournaments are there in a year?
Typically, there are four major golf tournaments held each year – The Masters, US Open, British Open and PGA Championship.
The Masters is held at Augusta National Golf Club in Georgia and is typically the first major tournament on the calendar each year. It features a variety of difficult holes that require precise shot-making from contestants.
US Open takes place in various locations around the United States and is famous for its punishing roughs and unforgiving bunkers that challenge even the most seasoned professionals.
The Open Championship which is held on several courses throughout Britain, with its unique links-style golf courses making it one of the most challenging majors to win.
PGA Championship provides a stern test of golfing technique and composure, as it is usually played on longer courses which require great accuracy.
However occasionally additional majors may be added to the calendar. For example, the Women's British Open was introduced in 2001 and has since become one of the most prestigious tournaments in women's golf.
Popular players who have won major golf tournaments
Over the years, some of the greatest golfers in history have won major tournaments. A few notable examples include:
Tiger Woods – who has won a record 15 majors out of 40 appearances.
Jack Nicklaus – who holds the record for most Masters titles with six victories and overall major wins at 18.
Arnold Palmer – who won seven major championships and was one of the most influential players in the game.
Phil Mickelson – who has won five majors, including three Masters titles. He is also known for his impressive shot-making abilities.
Rory McIlroy – who won his first major tournament at The Open Championship in 2014 and has since gone on to win four more.
These golfers have become some of the most well-known players in the world due to their achievements on the course, making them true icons of the game.
The benefits of participating in a major golf tournament
Taking part in a major golf tournament comes with many benefits. It gives you the opportunity to compete at an elite level and measure your skills against some of the best players in the world. Additionally, many major tournaments offer large prize money pools and international recognition for those who succeed in the event.
However, even if you don't win or place in the tournament, you can still benefit from the experience. You'll get to meet and interact with professional players and learn more about your own game – which could help to take your golfing abilities to a whole new level.
How to qualify for a major golf tournament?
Qualifying for a major golf tournament is no easy feat and requires dedication, skill, and plenty of practice. Generally, the top players in the world are invited to take part in each event with additional places being allocated to those who have made it through one of the qualifying rounds. These can include open qualifiers or invitation only events, so make sure you check which ones you're eligible for.
In addition to this, there is usually a 'cut-off' mark which must be reached by players after the first two rounds of play. Those who don't reach this score will be eliminated and won't progress through to the later stages of the tournament. So it's important to ensure that you practice hard and hone your skills to give yourself the best chance of success in a major golf tournament.
–> More watching: How To Prepare For A Golf Tournament
What to expect when competing in a major golf tournament?
Competing in a major golf tournament can be a nerve-wracking experience. The pressure of being on an international stage and competing against some of the best players in the world can be overwhelming. However, with preparation and practice you should be able to remain calm under pressure and bring out your best golfing abilities on the day.
When playing in a major tournament, you can also expect to be surrounded by large crowds who will be encouraging (or discouraging) the players as they go around the course. This is all part of the experience and adds an extra layer of excitement and tension to proceedings.
At the end of the tournament, medals or trophies are usually awarded to the top three finishers and the overall winner receives a huge cash prize. It's important to remember that even if you don't win, taking part in a major golf tournament is an amazing experience and one that can help you develop your game for years to come.
Tips for participating in major golf tournaments
Now you know what is a major golf tournament, how to qualify and what to expect, here are some tips for participating in them:
Make sure you are fully prepared for the tournament by practicing all aspects of your game, including driving, chipping, and putting.
Take the time to familiarise yourself with the course layout and make a plan for each hole before starting play.
Don't let nerves or pressure get in the way – stay focused and take each shot one at a time.
Take regular breaks during the tournament to stay hydrated and keep your energy levels up.
Have fun. Enjoy the experience as much as possible – it's an amazing opportunity that doesn't come around often.
How to watch a major golf tournament live or on television?
Many major golf tournaments are broadcast live on television or streamed online, often with expert commentary and analysis from around the world. This allows you to follow all of the action as it happens and catch some of the best shots from the players.
For those who don't have access to a TV, you can also follow the action from your computer, laptop or mobile device. There are numerous websites that offer live coverage of the majors as well as stats, news and analysis from experts.
If you'd prefer to watch a tournament in person then make sure you book your tickets early to avoid disappointment. Many tournaments provide reserved seating and hospitality packages for those who would like to make the most of their experience.
Conclusion: What is a major golf tournament
Competing in a major golf tournament isn't for the faint of heart. But with dedication and hard work, you can give yourself the best chance of success. There are four main major tournaments that take place each year and additional ones may be added to the calendar from time to time. Popular players such as Tiger Woods have won multiple majors in their careers and become icons of the sport. Taking part in a major tournament can provide you with international recognition, an opportunity to compete at an elite level and help you to develop your game. In order to qualify for a major golf tournament, you must usually either gain an invitation or make it through one of the qualifying rounds. When competing in one of these events, be prepared for large crowds and plenty of pressure as you strive to finish in the top three and take home the prize money.
See also: what is a golf fairway
FAQs Major golf tournament
Are major golf tournaments part of the PGA Tour?
The PGA Tour does not oversee the organization or management of any of the four prestigious major championships, including the Masters, PGA Championship, U.S. Open, and The Open. Additionally, the tour has no involvement in the renowned Ryder Cup.
Is there a difference between the Masters and a major golf tournament?
The Masters is one of four major championships in men's professional golf, alongside the U.S. Open, The Open Championship, and the PGA Championship. It is held annually in April at Augusta National Golf Club, which was co-founded by Bobby Jones and Clifford Roberts in 1934.
Is there a major golf tournament for women?
Yes. The top five women's golf tournaments include the U.S. Women's Open, Women's PGA Championship, Chevron Championship, Women's British Open, and Evian Championship.
Are there any major golf tournaments for juniors?
One of golf's major championships for juniors, the Junior PGA Championships are where the best in the world get their start.
How do I register for a major golf tournament?
Registration for a major golf tournament usually takes place online via the tournament's official website. If you are eligible to enter, you will be required to provide your personal details and payment information in order to confirm your entry. It is also important to note that some tournaments may have restrictions on who can participate, so make sure you read the rules and regulations before registering.
What is the prize money for a major golf tournament?
The Masters tournament had a generous prize of $18 million, while the PGA Championship offered a purse of $17.5 million. In a remarkable achievement, Matt Fitzpatrick emerged victorious at the 2022 U.S. Open, securing not only his first major title but also a substantial $3.15 million in winnings. This year's champion, Wyndham Clark, can look forward to a substantial boost in his bank account with a winner's check of $3.6 million (minus taxes).
Where is each major golf tournament held?
The Masters is held annually in April at Augusta National Golf Club, the U.S. Open is hosted by different courses around the United States, The Open Championship alternates between Royal St George's and Carnoustie in Scotland while the PGA Championship rotates between a variety of locations throughout the United States and Europe. Additionally, there are many other professional tournaments that are held around the world each year.
How do I get tickets to a major golf tournament?
Tickets for major golf tournaments can often be purchased online or at the gate of the respective venue. It is best to plan ahead and purchase tickets in advance as they can often sell out quickly. Additionally, many tournaments also offer hospitality packages for those who would like to make the most of their experience.
What should I wear to a major golf tournament?
Ensure you dress appropriately for a golf tournament by following these simple guidelines. Men should opt for a collared polo shirt, accompanied by golf shorts or pants. Women can either choose the same attire as men or go for a comfortable golf dress or skirt. By adhering to this dress code, you'll always look the part on the green.
Can I bring food and drinks into a major golf tournament?
At the tournament's discretion, food may enter the tournament in a clear, resealable plastic bag not to exceed the size of a one (1) gallon bag. Outside beverages or coolers are not permitted.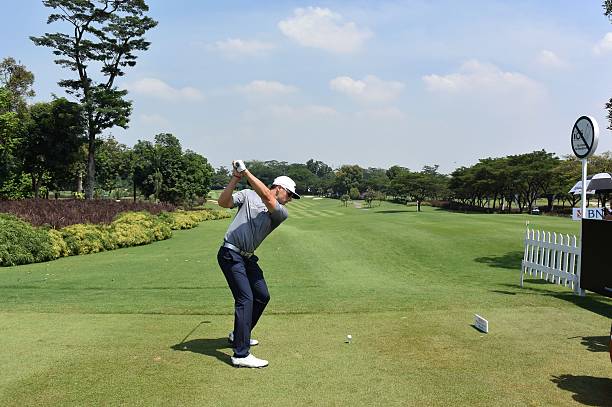 Jamie Sadlowski is one of the most remarkable golfers in the world. He's a two-time World Long Drive Champion, and he's currently ranked 4th in the world. His story is one of perseverance, hard work, and passion for the game. Let's take a closer look at this inspiring athlete.
The Early Years
Jamie Sadlowski was born in St. Paul, Alberta, Canada. He started playing golf at a young age and quickly developed an affinity for the sport. As he grew older, his passion for golf only deepened and he eventually decided to pursue it as a career. After graduating from high school in 2006, Jamie enrolled at the University of Nebraska-Lincoln where he studied business and played collegiate golf for three years. In 2009, he decided to leave college early to pursue his dream of becoming a professional golfer .